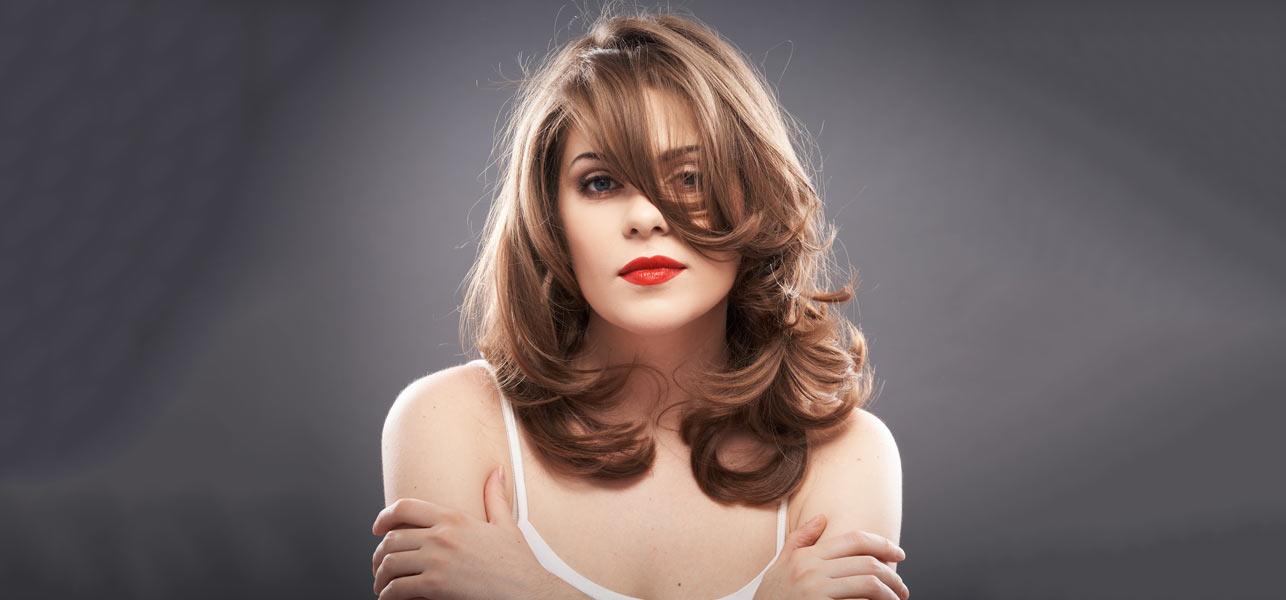 Nothing beats the versatility of medium length hair. It is neither too long that you have to constantly spend time in its upkeep, nor is it too short that you can't do much with it. It is, in fact, the ideal length to try out all the hairstyles you can dream of.
1. Braided Headband
Elegance doesn't have to be complicated. This easy to do hairstyle for medium hair can be matched with just about any outfit.
This hairstyle calls for a wispy look, so don't bog your hair down with products. Just add a little serum for shine. Part your hair a little off the center. Make a braid down one side. Place it across your crown, and secure it with bobby pins. Pull back the rest of your hair into a ponytail or a bun, and you're done.
2. Retro Ponytail
A full-on beehive, reminiscent of the 60s, can be a little too elaborate for you to pull off when you are short on time. Here's a simple hairstyle for medium hair that requires less than five minutes.
Start by applying any product that adds shine. Add volume at the crown and smoothen out the top. Then, pull your hair back into a pony.
3. Pulled Back
Rather than leaving your hair open, you can try pinning it behind your ears. This keeps hair off your face and adds instant elegance.
4. Retro Waves
Retro hair is making a comeback, and to bring out the femme fatale in you, all you need is a straightening iron and loads of hairspray. A straightening iron works better in giving you a more polished look rather than a curling rod. So, add curls to your hair, set it with hairspray, and flaunt your new look.
5. Wraparound Ponytail
A simple half ponytail is made more interesting by wrapping a section of hair around the base of the ponytail. Make sure that you use a volumizing product to make your hair look thicker and better.
6. Soft Curls With Bangs
Sporting this hairstyle couldn't be easier. Use a large barrel curler and style your curls away from your face. Pin your curls back, and smoothen out your bangs using a hair straightener.
7. Laid-Back
On the days you really don't want to put in too much effort, this hairstyle is the way to go. Just flip your hair and brush from the nape to the tips of your hair. This gives your hair more volume.
8. Ballerina Bun
To sport a voluminous bun, you don't need a lot of length. All you need is a bun donut and hairspray. Start by gathering all your hair into a pony at your crown. Place the donut at the end of the pony and fold it towards the base. Make sure that you tuck in any stray strands. Set your bun with a strong hold hairspray.
9. Half Pony
Flaunt your natural waves with this trendy hairstyle. Divide your hair into two sections and secure the top half in a scrunchie.
10. French Twist
French twists are the epitome of elegance, and can be really easy to recreate. Start by applying a volumizing product to your hair. Gather your hair at the back, and roll it to make an elongated bun. Secure with bobby pins and hairspray.
11. Amped Up
Volume is always great. So make the best of your hair by using a volumizing product on it. Tease your hair at the temple, and set it with hairspray.
12. Sleek
To bring out the inner goth in you, you can try out this style. Apply a conditioning product before you begin. Straighten your hair. Then, spray a brush with hairspray and run it through your hair. Tuck your hair behind your ears, and if necessary, use bobby pins to keep it in place.
13. The Half Updo
To create the half updo, you need to add volume at the crown. So, backcomb your hair and spray with hairspray. Then, smooth the top out, and use bobby pins at the base of the puff. Set your hair with medium hold hairspray.
14. Elegant Waves
If you can't decide how to style your hair for that really important business meeting, here is your answer. Apply a shine-boosting product to your hair, and using a straightening iron, curl your hair gently. Set with hairspray, and you're ready.
15. Beachy Waves
You see far too many people flaunting their effortlessly wavy hair. The trick is to use a salt spray on your hair while it is still damp and keep scrunching it as it dries. You end up with luscious, voluminous, and heat-free waves.
16. Pin Straight
The obsession with super straight hair never seems to end. Pull out your straightener and smoothen out your hair to look sophisticated in just a pinch.
17. Puff
If you are not in the mood for anything elaborate, or if you are running short on time, a puff can really save the day. A little bit of back combing, a spritz of hairspray, and you're done.
18. Romantic Curls
Nothing beats the simplicity and elegance of this hairstyle. To recreate it, part your hair to one side and, using a large barrel curler, curl the ends of your hair.
19. Ponytail With Side-Swept Bangs
If you have bangs, then this is something you can try. Just use a large barrel curler to style loose waves. Brush out your bangs and secure the rest of your hair into a pony.
A little bit of texture can really amp up an otherwise simple ponytail. So, before you pull your hair back into a pony, make sure that you use a texturizing product on your hair.
20. Simple Waves
Waves never really go out of style. This hairstyle is an effortless way to look fab and suits almost everyone.
You can use your styling tools, or you can go heat-free. Using a large barrel curler or a hair straightener can give you instant waves. You can also roll up your hair into a bun while it is still damp, and enjoy your heat-free waves once your hair dries.
21. Pulled Back Bangs
Bangs are awesome, but there can be times when you want a different look. Using headbands and clips can keep them off your face. Or you can try this simple trick. Just brush your bangs back and spray a strong hold spray on them. This will keep them in place all day, and you'll have a great hairdo to sport.
22. Instant Waves
One of the easiest ways to get the perfect waves is by using a hair straightener. Divide your hair into four sections. Twist each section and run a straightener over it. Separate your locks and set with a medium hold hairspray.
23. Wispy Bun
A cute, everyday look that is oh-to-easy to style and pull off. And the best part is, it works really well for second-day hair.
To style, finger comb your hair and pull it back into a ponytail at your crown. Add volume to the ponytail by backcombing it. Then, wrap it around the base to make a bun.
24. Updo With A Headband
Hair falling on your face can get really distracting. So pull your hair into a bun and use a headband to keep your pesky bangs off your face.
This hairstyle looks best with a little volume, so use a volumizing product on your hair. Wait for it to dry. Then, flip your hair and brush it. Gently brush your hair back. Place a headband as close to your temple as possible and push it back so that you no longer have your hair falling on your face. Gather your hair into a simple bun and secure with bobby pins.
25. The Almost Braid
A fun outing needs hair that is fun too. This simple side braid with tendrils framing your face is the perfect hairstyle for your day out.
Start by applying a volumizing product to your hair, and scrunch it for more volume. Part your hair down the center without using a comb or a brush. Move all of your hair to one side, and braid just the ends of your locks. Use bobby pins wherever necessary, and set your hair with a flexible hold hairspray.