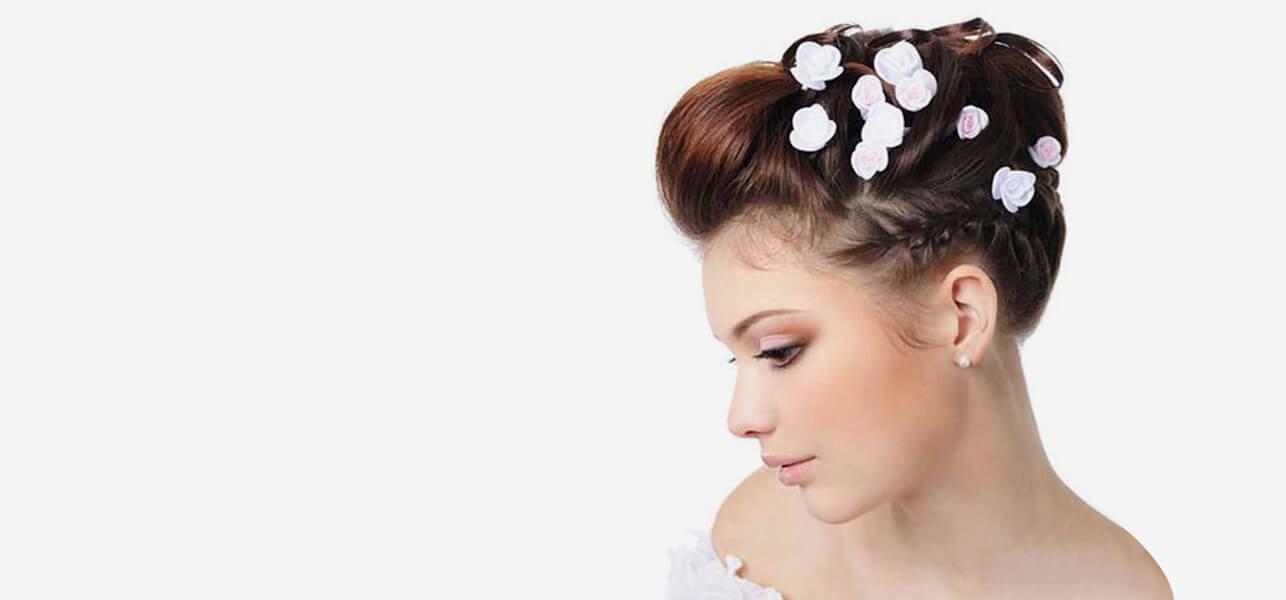 Formal bridal hairstyles can be tough to decide on. But if you are sure what kind of look you want to sport for your wedding or reception, then the job becomes easy.
Formal wedding hair styles with clean braids or a top knot bun are a new trend for brides these days. So if you are one of those brides-to-be then you can choose a good style from the ones we have chosen below.
Top Formal Bridal Hairstyles
1. A Differently Braided Up do:
If you want to sport a braided formal up do for your wedding then you can choose this hair up do. Grab your hairstylist and ask him/her to give you this awesome look. Do not forget floral pins to accessorise this sweet formal look. This is one of the most simple bridal hairstyles ever!
2. Long Formal Curly Bridal Hair:
If you are someone who loves to keep your hair open and want a bridesmaid formal hairstyles with open hair, then this hairstyle can be the easiest to sport. Tie a top pony tail, curl up the loose sections of hair. Adorn your hair at the ponytail with a lovely floral head band.
3. Loose Braided Top Knot Bun with Front Soft Bangs:
Is this the wedding bridal hairstyle that you've been looking for? Just perfect isn't it? But you surely need a hairstylist for this braided bun up do. Get a good banged haircut before hand for those soft side swept short bangs. Do not forget floral accessories to team up with this great look.
4. Top Knot Bun with Curls and Inward Soft Front Bangs:
A soft and smooth hairstyle with back bouffant and curls which has further been tied up in a top knot bun. Try this and if you have front bangs to go with this one, it will look even better.
5. Pin Curls and Back Bouffant Up do:
If you are looking for a vintage touch to your formal hairstyle then this can be an excellent choice for a formal bridal hairstyle .Pin curls are a precious form of vintage hairstyle which has made a terrific comeback in the world of fashion hairstyles. This accompanied by a bouffant or bumped up back can give the look worth a million dollars .Gorgeous isn't it?
6. Loose Braided Formal Bridal Hairstyle:
If you are looking for a braided and easy bridal hairstyle for your wedding which looks formal too, then this can be just perfect for you.
7. Low Hung Side Chignon:
This is a very easy to do hairstyle for wedding day. If you have bangs then sweep them across your forehead to one side to get this awesome look.
8. A Top Knot Bun:
A top knot bun can be a great hairstyle for a formal bridal hairstyle. If you are a fan of sophisticated hairstyles then try this one out. A tiara style accessory can be just the thing needed to complete this hairstyle.
9. Twisted Down to up Pony:
A low hung Pony can be twisted and brought back up, secured with hair pins and then made to look really beautiful with some floral accessories.
10. Floral Twisted Up do:
A simple teased up do with floral accessories. The touch of extravagance in this hairstyle is the twisting of the sections from the crown and then inserting and fixing them up to the bun. This can be great for an evening party also.
Here is a tutorial to show you how to easily make some formal bridal hairstyles. You can use these hairstyles for your bridesmaids' parties or even for an evening out.